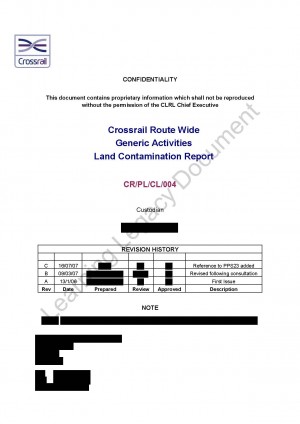 Crossrail Route Wide Generic Activities Land Contamination Report
Document type: Good Practice Document
Author: Crossrail Ltd
Publication Date: 26/02/2016
Abstract

A contaminated land assessment was carried out as part of the Crossrail Environmental Impact Assessment. The results were reported in the Crossrail Environmental Statement submitted with the hybrid Bill. A Contaminated Land Specialist Technical Report was produced at the same time to provide further information about the land contamination assessment. Measures for the management of Contaminated Land are set out in Chapter 8 of the Construction Code. The purpose of the Route Wide Generic Activities Contaminated Land Report was to build on the Construction Code by:

Identifying, in land contamination terms, generic activities and the locations at which they are relevant; and
Setting out a framework for the nominated undertaker to consider land contamination issues when carrying out those generic activities.

The report therefore built on available information about the Crossrail scheme, notably the Environmental Statement, Contaminated Land Specialist Technical Report and the Construction Code. Further to discussions with Local Authority Environmental Health Officers and the Environment Agency between July and October 2005, including the submission of the proposed approach to the Crossrail Planning Forum in September 2005. Although some of the document text indicates that the document still had a draft status, it was actually agreed and signed off by the Planning Forum on 22 November 2007.

Download the document here.