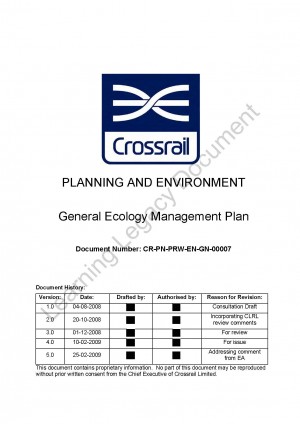 General Ecology Management Plan
Document type: Good Practice Document
Author: Crossrail Ltd
Publication Date: 26/02/2016
Abstract

When the Crossrail Hybrid Bill was introduced into the House of Commons it was accompanied by an Environmental Statement (including the supporting Ecology Technical Specialist Report) which presented the outcomes of the ecological studies undertaken to identify and evaluate the features of ecological interest, the findings of the assessment of significance of ecological effects and details mitigation proposals to ameliorate impacts.

The Ecology and Nature Conservation chapter of the Construction Code required the production of a general Ecological Management Plan for consultation with local authorities and relevant Statutory Agencies. The output of this process was the General Ecological Management Plan which applied to all works being undertaken under the powers of the Crossrail Act (including enabling works, main works and systems and rolling stock works) during the design, construction and restoration phases.  It details the ecological measures to be taken at all worksites during the construction of Crossrail to ensure compliance with the EMR. The measures presented in the General Ecology Management Plan formed the basis for the preparation of site specific management plans.

Download the document here.