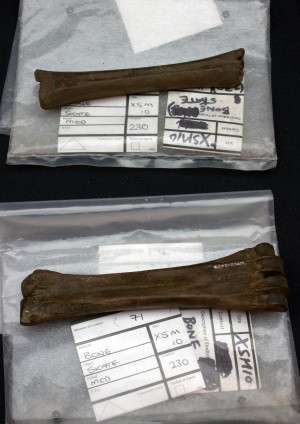 London Crossrail the New Churchyard AD 1569 to AD 1714
Document type: Journal Publication
Author: Jay Carver BA (Hons) MIFA
Publication Date: 30/11/2012
Abstract

In AD1569 a new burial ground was set out in the north of the City of London to cope with the ever increasing demands for burial space within the local parishes. Increasing population, together with 16th century disease epidemics had created an urgent demand for more space and the new metropolitan solution for large extra-urban cemeteries in the suburbs was still some 300 years away.

The Bethlem Burial ground, an acre of land adjacent to the infamous hospital, operated for some 200 years. During this time many thousands of interments took place, mostly in simple wood coffins or shrouds, and  exceptionally in family brick tombs. When it was discontinued the land was raised sufficiently and the cemetery disappeared from trace below new street layouts and buildings of the Georgian urban housing boom.

In the mid-19th century (1861) the construction of the new Broad Street Station and underground ticket hall in the northern part of the cemetery no doubt came across human remains, but in the spirit of the day, there was insufficient notice taken to halt or alter the works. In 1985, development again struck the northern part of the site during redevelopment of the station to create London's largest new business district at the time, the Broadgate Centre. This time, archaeologists from the Department of Urban Archaeology at the Museum of London were able to carefully excavate a sample of the burial ground.

The final phase of the depositional history of the site is now being played out in advance of construction of the new Crossrail underground ticket hall which will remove the remaining undisturbed southern part of the burial ground. This paper will look at the historiographical background to the current research, the planning issues surrounding choices in research agenda, methodology, public relations and reburial of the remains.

This paper was published in 'the Proceedings of CHNT 17', 17th International Conference on 'Cultural Heritage and New Technologies' Vienna, 2012, and can be accessed here.