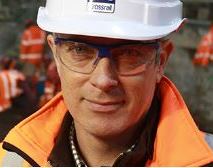 Lead Archaeologist, Crossrail
Jay was appointed by Crossrail to the technical directorate to author and develop the standards and procedures, procurement model, development of scope and specification for the archaeology framework contracts, tender evaluation of technical submissions, and oversee design consultant deliverables for the Crossrail Archaeology programme in 2006. He joined the Crossrail delivery team in 2010 to oversee completion of the detailed scope and programme design by Crossrail's design consultant framework, liaise with all projects across the programme to ensure archaeology and non-listed built heritage works were successfully integrated into project programmes.
Between 2010 and 2016 he has overseen  the successful delivery  of all archaeology survey and mitigation works during construction of Crossrail.  He acted as Crossrail lead spokesperson for archaeology stakeholder, community relations and media events during the course of the programme.
Jay's previous infrastructure experience includes project lead archaeologist for numerous major highway schemes (including the 28Km A46 Newark to Widmerpool dual carriageway in Nottinghamshire) and the London DLR City Airport extension, and as Senior Archaeologist for the High Speed 1 Channel Tunnel Rail Link project between Folkestone and London St Pancras.
Jay has delivered numerous conference papers and lectures on the archaeology of the Crossrail project, some of which can be found in the legacy section, and he is author of the Historic Environment and archaeology sections in the CEEQUAL manual, and CIRIA Environmental good practice on site guide (4th Edition), and Cultural Heritage sections in the Highways England DMRB (various, including Vol. 10 Design Guidance). He is co-author of the CIRIA best practice guidance Archaeology and Development (2008).