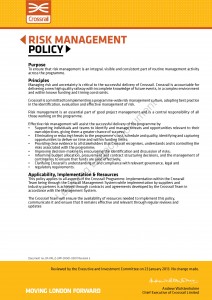 From an early stage Crossrail recognised that managing risk was critical to the success of the programme. Crossrail implemented risk management across the organisation with three core objectives:
Support the delivery of Crossrail by reducing the likelihood and potential consequences of events that could have a negative effect on the programme and increasing the likelihood and potential consequences of events that could have a positive effect on the programme;
Provide assurance to internal and external stakeholders that each project understands its significant risks and is actively managing them;
Improve decision making, planning and prioritisation by improving understanding of uncertainty and risk.
Key to implementing the above was the support of senior management and the authority provided by the Crossrail's governance through the adoption of an independent sub-committee for the approach to risk management, as well as visibility of performance through a robust set of performance indicators and assurance framework.
Crossrail has taken the approach of integrating Health and Safety risk into its overall risk management process which differs from other railway models where the safety risk model is generally separate from the business risk model. As a result, risk management covers all categories of risk, both during design and construction as well as during commissioning and operation, including:
Health and Safety risks;
Business Risks including Funding and Delivery risks;
Engineering and Design risks;
Interface and Logistics risks;
Environmental risks;
Quality risks;
Business Continuity risks; and
Security risks (including Fraud).
Crossrail's approach to risk management is set out in the risk management framework of documentation shown below: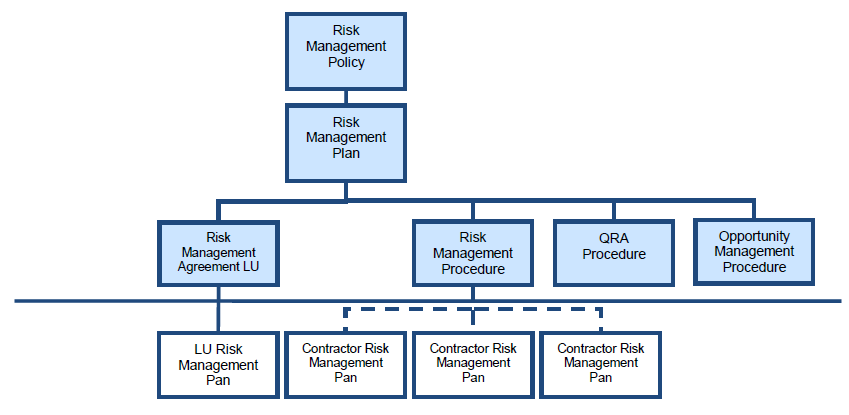 Key risk management documents:
Early in its development, Crossrail was innovative in its rejection of optimism bias in favour of Quantitative Risk Assessment (QRA) techniques. This approach placed an early focus on the management of risk and uncertainty and resulted in a helpful acknowledgement that outturn costs should be reported as a range. This resulted in Crossrail's reporting of Anticipated Final Crossrail Direct Cost (AFCDC) at P50 and P95. A future learning legacy paper will discuss the above and how a Quantified Risk Assessment process was then implemented throughout the organisation and integrated within the cost management process.
As well as implementing formal risk management disciplines within the client organisation, risk management was extended throughout the supply chain.   A learning legacy paper on Supply Chain Risk Management  describes Crossrail's approach to both mandating a consistent approach to risk management through the Works Information and also to engaging and working with the contractor teams to develop their capability beyond the minimum requirements to the benefit of both parties.  A further paper – Managing Risk under NEC Contracts – will review the relationship with NEC Target Cost Contract and the Early Warning process.
Risk management worked in partnership with the insurance and assurance functions within Crossrail.The learning legacy paper Risk and Assurance demonstrates the key role this played in keeping the project on track.  Future learning legacy papers will review successes and lessons learned from the collaborative approach taken. A Strategic Risk Management paper identifies the importance of recognising  high level strategic risks and engaging senior management in the risk process.
Crossrail has been a contributor to the Infrastructure UK work on risk resulting in a report on Managing Cost Risk and Uncertainty in Infrastructure Projects published by Institute of Risk Management.