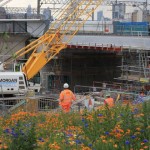 The
sustainability strategy
for delivering Crossrail sets out the key sustainability themes that are material to delivery of the project and identifies key performance indicators to be used to track performance. The strategy adopts a holistic approach, taking a balanced view on environmental, social and economic performance. Whereas many projects have focused on the environmental aspects of sustainability, Crossrail is addressing issues of supply chain and small and medium enterprise engagement, supply chain risk management, local employment, skills and training, and ensuring that opportunities are not confined to the southeast of England. 
Sustainability reports
were produced annually from 2012 to 2018 and are all available to view.
This paper
published by the ICE will be of particular interest to client organisations responsible for national infrastructure but also provides valuable information for designers and construction professionals. The paper starts by providing a brief description of the scope of the project then describes how sustainability has been built into the delivery of the project, the governance structure and how performance is measured. Examples are provided of some of the key enablers and tools used on the project.