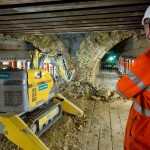 The H&S Improvements function collates and analyses H&S Performance Indicators (HSPI) and develops corresponding improvement initiatives for implementation across the project. This includes responding to incidents on the project, establishing expected performance criteria, conducting Gateway Assessments of Principal Contractors and organising pro-active H&S initiatives.
All of the above aim to ensure that Crossrail's Target Zero strategy is realised and that the safety culture of the organisation is continuously improving.
The Health and Safety Improvement learning legacy seeks to share good practice lessons and lessons learned on the above. This includes a series of H&S Alerts and Good Practice Bulletins which have been produced throughout the programme. These are shared as part of the learning legacy as the issues/ Incidents/ good practice are relevant to projects and companies of all sizes.
A series of Best Practice Guides has been produced in collaboration with Crossrail's contractors and other industry specialist bodies. These were produced in response to specific project activities and were aimed at raising health and safety standards through the  sharing of knowledge and experience of the companies working on the programme.  These guides are shared on the learning legacy for use by other projects.
One of the H&S Engagement initiatives that has proved very successful on the Crossrail programme in ongoing improvement of H&S standards is the Stepping Up Week programme. This is a bi-annual week-long event held across all 40 or so Crossrail sites focusing on Health and Safety activities. Lessons learned and associated collateral used in each of the events are shared for use by future projects or companies considering implementing this type of initiative.
A learning legacy paper has been written to review HSPI, Crossrail's leading indicator measurement programme and how it has influenced proactive behaviour, what worked well and where changes were required.
Plans for future content include a review of  the Crossrail health and safety framework, Crossrail's overarching Health and Safety philosophy, and the associated initiatives, messaging and support material over the programme; and a more detailed paper on the effectiveness of behavioural health and safety initiatives run by contractors and how they have been applied across Target Zero.