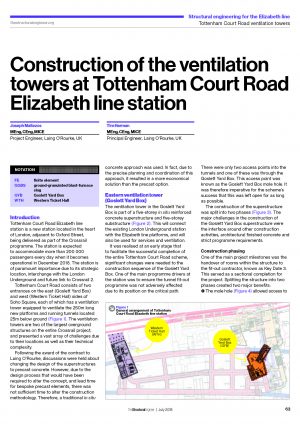 Abstract

Tottenham Court Road Elizabeth line station is a new station located in the heart of London, adjacent to Oxford Street, being delivered as part of the Crossrail programme. The station is expected to accommodate more than 200,000 passengers every day when it becomes operational in December 2018. The station is of paramount importance due to its strategic location, interchange with the London Underground and future link to Crossrail 2.

Tottenham Court Road consists of two entrances on the east (Goslett Yard Box) and west (Western Ticket Hall) sides of Soho Square, each of which has a ventilation tower equipped to ventilate the 250m long new platforms and running tunnels located 25m below ground (Figure 1). The ventilation towers are two of the largest overground structures on the entire Crossrail project, and presented a vast array of challenges due to their locations as well as their technical complexity.

Following the award of the contract to Laing O'Rourke, discussions were held about changing the design of the superstructures to precast concrete. However, due to the design process that would have been required to alter the concept, and lead time for bespoke precast elements, there was not sufficient time to alter the construction methodology. Therefore, a traditional in situ concrete approach was used. In fact, due to the precise planning and coordination of this approach, it resulted in a more economical solution than the precast option.