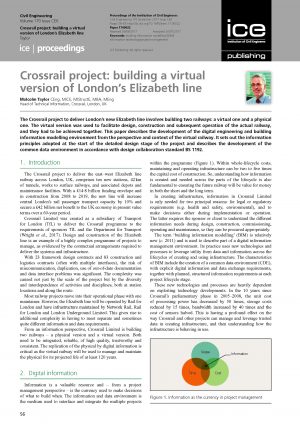 Crossrail: Building a Virtual Version of London's Elizabeth line – The Development of the BIM Environment
Document type: Journal Publication
Author: Malcolm Taylor, ICE Publishing
Publication Date: 25/09/2017
Abstract

The Crossrail project to deliver London's new Elizabeth line involves building two railways: a virtual one and a physical one. The virtual version was used to facilitate design, construction and subsequent operation of the physical version, and they had to be achieved together.

This paper describes the development of the digital engineering and building information modelling environment from the perspective and context of the virtual railway. It sets out the information principles adopted at the start of the detailed design stage of the project and describes the development of the
common data environment in accordance with design collaboration standard BS 1192.