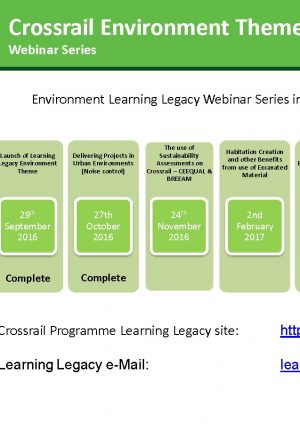 Abstract

This is the eighth in the series of Crossrail Learning Legacy webinars focused on the Environment Theme.

Crossrail is one of the largest single infrastructure investments ever undertaken in the UK. Delivering Crossrail has presented a number of complex and challenging issues for environmental management, but at the same time the size and scale of the project presented an opportunity to do things differently, to increase environmental performance beyond that which had been achieved on previous major infrastructure projects and thereby set a new standard for the future.

This webinar presents an overview of the approach taken by Crossrail to promote a high level of environmental performance through setting objectives and targets, establishing proactive environmental management and incentive processes, and encouraging innovation and best practice. Examples of the outcomes achieved are provided.