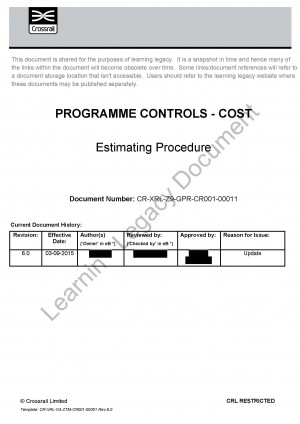 Estimating Procedure
Document type: Good Practice Document
Author: Crossrail Ltd
Publication Date: 27/09/2016
Abstract

This document sets out the role of the Programme Controls Estimating Team and the procedures and approach undertaken in the preparation of estimates and other activities that were identified as being the responsibility of the estimating team.

This procedure applies to the central estimating team and identifies the interfaces with the delivery teams. It also dictates what peripheral duties and assistance the estimating team can or may provide.

This procedure also covers the approach to providing data to 3rd parties and external bodies such as the Infrastructure and Projects Authority (formerly Infrastructure UK (IUK)).