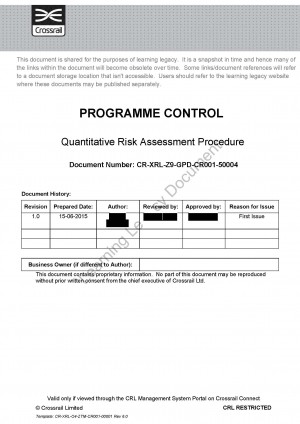 Quantitative Risk Assessment Procedure
Document type: Good Practice Document
Author: Crossrail Ltd
Publication Date: 27/09/2016
Abstract

The purpose of this procedure is to set out how Quantitative Risk Assessment (QRA) is undertaken on Crossrail. It represents a quality plan for achieving Crossrail risk management objectives. It is written to accord with the:

Crossrail Risk Management Plan
Crossrail Risk Management Procedure
Change Control and Budget Management procedure
Cost Management and Forecasting procedure
Programme Controls Glossary of Terms
Project QRA Template

This procedure defines an approach for quantifying risks to Crossrail costs throughout the Project and up to handover, and addresses the quantification of risks caused by the many functional, organisational and physical interfaces with other Crossrail work packages.

This procedure applies to Project, Area and Functional teams, and describes the Programme Level assessment. It also explains how the QRA at Project and Area levels combines with the Programme Level assessment to inform the overall Crossrail risk profile.