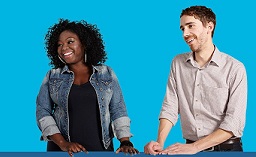 Recruiting for an Integrated Team
Document type: Micro-report
Author: Luke Kosowski
Publication Date: 27/09/2016
Abstract

Crossrail required the right people at the right time to deliver the project safely, on time and within budget. In 2012, Crossrail established a integrated recruitment function to achieve this. The recruitment function was responsible for recruiting all roles across the integrated Crossrail team. This report outlines how Crossrail developed and implemented a talent attraction strategy to source quality and suitably skilled candidates.
This report will be of interest to HR Directors, HR professionals, HR business partners, Recruitment Managers and Recruitment Specialists

Read the full document

Introduction & Context

Crossrail required the right people at the right time to deliver the project safely, on time and within budget.

During the early stages of the project all of the site recruitment and staffing was provided by the project delivery partners who were contracted to deliver the centre sections of the Crossrail Programme. The delivery partners were joint ventures of large organisations who had the capability to provide skilled people with project management experience.

Corporate vacancies were recruited directly by the Crossrail HR Team, though a traditional recruitment approach which was managed within the general HR function as part of the HR Officer role.

In 2011, the Executive and Investment Committee and the Crossrail Board decided to form the integrated team — one Crossrail team which brought together the talent from Crossrail Limited, the Programme Delivery Partner and the Project Partner. The integrated team ensured that Crossrail, as an organisation, was able to source the talent it required for project delivery.

In 2012 the Executive and investment Committee and the Crossrail Board took a decision to transition all existing and any new vacancies directly to Crossrail to act as the employer. This resulted in Crossrail having to deliver an immediate requirement, and provide support for any future vacancies across the organisation. As a result of this change, the number of vacancies increased quickly and a specialist recruitment team was established to support the project.

What Crossrail Did

In order to support the change in strategy a dedicated recruitment function was created to provide the following:

Attract suitable candidates to the project, and fill existing vacancies.
Create and promote a talent attraction brand and strategy.
Partner the individual business areas with all related interviews and assessments.
Ensure value for money by providing appropriate candidates through effective channels.

Setting up the Team

The team was resourced through both direct and agency channels and structured with specialist consultants with individual area of expertise providing support to the different business areas. This was further supported by an administrative team to ensure successful delivery.

The process was reviewed and a structure was set up and integrated with the wider HR team to enable a consistent candidate journey from applying to the role, interviewing, and on-boarding.

Building a Talent Attraction Strategy

In order to effectively deliver talent to the organisation Crossrail needed to be more visible in the market place to attract high calibre talent from multiple talent pools across the UK. A broad reach was needed for the core audience groups of Project Delivery, Engineering, Technical, and Head Office functions.

An approach was created that connected with Crossrail's existing 'Moving London Forward' brand. 'Moving London Forward' brings the Crossrail project, and the impressive facts and figures to life on a human and personal scale – and so our approach to recruitment messaging did too.

Showing potential candidates how their work, no matter in which role they joined Crossrail, would ultimately impact on individuals' lives across London, would be more rewarding and interesting than doing this type of role with other employers.

Utilising the Crossrail brand enabled further engagement with hard to reach talent and skills which were generally in short supply. This allowed Crossrail to attract a broader range of skills and individuals who may have not considered a new opportunity, but who were interested in being part of the Crossrail project.

Visual Advert Examples

Figure 1 – With 118km of track, including 21km of new twin-bore tunnel, Crossrail will connect more people with more places across London than ever before. But we're constructing more than a railway. We're building futures too. Our Tunnelling and Underground Construction Academy will develop more underground infrastructure experts, and see the UK becoming a centre of excellence for tunnelling. And, with plenty of opportunities to grow your expertise, there's a lot more for you to look forward to.

Figure 2 – With up to 24 trains per hour, an estimated 200 million people will travel on Crossrail every year. From fund-raising runners to tourists seeing the sights, we'll connect more people with more places in the Capital than ever before. But we're not just improving train times, we're also improving life in our city – creating greener, safer public spaces. And, as you help us deliver this legacy for London, we'll enhance your career too.

Multiple Attraction Channels

Crossrail needed to be present on multiple candidate attraction channels in order to have exposure to deliver the talent, these primarily included:

Recruitment Job Boards
Social Media (LinkedIn, Twitter)
Recruitment Agencies
Open Days
Internal vacancies list
Crossrail website
Print media, including trade publications
Specialist executive search agencies (occasional use)

After running several campaigns, it became clear that a multi-tiered approach worked best on attracting a significant volume of quality candidates. This meant that it was vital that Crossrail maintained a strong presence across all channels. Crossrail chose to maintain its presence by using direct advertising, promotional placement, such as 'employer of the month' on job boards, email newsletters, vacancy alerts and networking within specific communities to enable further reach and exposure.

Senior & Executive Recruitment

In addition to recruiting for vacancies across the integrated team, the Crossrail recruitment team also manages the senior and executive recruitment process for Crossrail and non-executive appointments to the Crossrail Board. The recruitment team was responsible for developing and delivering the recruitment strategy for senior and executive vacancies, developing the search brief and for liaising with executive search agencies.

Preferred Agency Suppliers (PSL)

Crossrail operates a strict recruitment agency preferred supplier agreement with a number of well known agencies, and a number of smaller specialist outlets in order to have a broad reach into the market place. Crossrail always ensures that the charge rates negotiated with the agencies represent good value for money. Crossrail is able to do this by using the bulk buying power of Transport for London's PSL.

Direct candidate placements are always a priority in order to reduce costs where possible, however this could not influence our candidate quality or time to hire. Agency suppliers are used when a role is identified to be difficult to fill directly.

Project Delivery Partners

As part of the wider Talent & Resources team the Programme Delivery Partner HR representatives were co-located with the Crossrail recruitment team. This approach enabled the teams to share knowledge and work closely in resolving cross-organisational challenges. Resourcing meetings are held weekly to track progress and address any recruitment delays.

One advantage of co-locating the recruitment teams was that the Partners had additional candidate resources available from their home organisations which provided a further avenue for Crossrail to source suitable candidates. This, however, needed to be carefully balanced as it added further commercial impact to the project.

Project Progress / Skills Diversification

As the project moved through the various construction stages the skill sets needed to build the railway became varied and different. The recruitment team started with vacancies in Heavy Civils and progressed through to Tunnelling, Engineering, Technical and Systemwide fit-out.

Each of the stages represented a different demand and it was important for the recruitment team to work closely with the business to ascertain the type of skills needed, and when they would be needed. Planning and working ahead of the curve ensured Crossrail had the right talent in place. The integrated recruitment team worked closely with each individual directorate as soon as the vacancies were approved within the business plan. This enabled the recruitment team to understand when the roles were needed, and to allocate appropriate recruitment resources to source the talent before it was required by the project.

An additional challenge for sourcing talent was that each role had a defined time line to deliver a 'section' or a 'piece' of work on the programme. The person doing the role needed to be in place at the start of the works and had a set finish date. Any delay in staff joining had a wider implication to the works and the project overall. With the project completion date set for late 2018, it was imperative to have the staff in roles when needed.

Both permanent and contract hires needed to be filled. Due to cost implications of hiring contractors, Crossrail where possible, would always take permanent employees and contractors would be hired as a short term interim measure or to fill short term roles. However, due to the nature of some the skill sets required, only contract staff were available in the market place.

Talent Shortage

Being the biggest infrastructure project in Europe with a large volume of vacancies in both standard and niche roles presented challenges for both talent attraction and candidate availability.

Competition for similar candidates from other London, UK and World-Wide projects presented further candidate shortage and higher salary demands from the available individuals.

Crossrail was very cautious not to create a spiral effect amongst the projects where talent would move from one role to the next demanding a salary increase at each stage. By continuous dialogue with our industry partners, recruitment agencies and market research Crossrail ensured that it kept the pay rates in line with the market rate and did not create inflation of compensation.

Salary benchmarking is used as necessary, particularly for more senior roles. Crossrail used and participates in salary surveys to ensure that Crossrail is competitive within the marketplace.

Recruiting for Values

Crossrail was keen to ensure that the candidates who are selected represent Crossrail's corporate values of Heath & Safety, Collaboration, Integrity, Inspiration and Respect. Interviews, assessments, and tests which are presented to candidates as part of the selection process reflect these values.

Data Capture / Management Information

Periodic reporting ensures the recruitment team remain on track with all hires, being able to provide quality talent to the organisation whilst reflecting value for money.

The metrics allow Crossrail to review: applications made, interviews conducted, new starters by directorate, new starters by each consultant, source of new starters (direct or agency) activity per period and cost per period.

The data allows the recruitment team to scale appropriately to provide support to the business, and learn of any new improvements needed in each area. All data is captured through a series of manual spreadsheets and the data input as part of the Recruitment Administrator's role.

Corporate Graduate Scheme

In order to support the early career professionals Crossrail introduced and ran three separate graduate intakes concentrating on skills needed on the project such as Civils, Engineering, Mechanical, Electrical and Commercial. The programme was offered on a two year fixed term contract and included four rotations across the business.

Crossrail engaged early with selected universities which represented the skills that the Crossrail project required. Through this approach, Crossrail engaged with over 40 universities and undertook roadshows to promote the opportunities available on the Crossrail project.

The Crossrail Graduate Scheme was well received with over 2,000 applicants expressing an interest. The selection process included a specifically designed graduate assessment centre where candidates were required to complete group, technical and individual interviews which assessed their technical competencies and their alignment to Crossrail's corporate values. The recruitment team was required to collaborate with the organisation and engage with hiring managers with a depth of skills and experience in order to make the selection process a success. In total over 70 graduates were employed via the scheme

Corporate Apprentice Scheme

Crossrail offered a number of direct opportunities to individuals to complete their studies and apprenticeship work placements through the entire organisation, as well as having a contractor driven apprenticeship scheme. Further information on Crossrail's Apprentice Scheme is provided in the Apprenticeships case study.

All corporate apprenticeships were advertised and were offered for a period of 12 months. The scheme consisted of four days in the office and one day at collages. At the end of the 12 months, the individual achieved a National Vocation Qualification. Although apprentices were not guaranteed a role at the end of their apprenticeship, at least 80% were successful in applying and being successful for other roles across the project.

Outcomes / Lessons Learned

The team continues to support the business, and has successfully hired in excess of 1,000 individuals since its inception in 2012. Having a good understanding of the key skills required has assisted in ensuring the sourcing of candidates which match the project's requirements.
Scalability of team was an important aspect of the structure due to the fluid nature of the resource needed on the project. Crossrail business planning projections were often undervalued to the actual number needed to support the works with the team hiring far greater numbers than projected.
Working alongside the recruitment teams from the Partner organisations provided a good opportunity to improve collaboration and allowed greater access to specialised resources, reducing delay on the project.
Crossrail had strong brand recognition within the market place. Combined with multiple attraction channels, strong brand recognition led to improved talent attraction.
Due to the unknown nature of the candidate and vacancy requirement at the beginning of the project, a decision was made not to invest capital in an Applicant Tracking System (ATS) to manage candidate data. On reflection, with the volume of vacancies and positions filled, an ATS would have provided sufficient value for money and streamlined the recruitment operation further providing deeper insights to recruitment performance.

Recommendations for Future Projects

Successful project delivery depends on talent availability with suitable skills. Make sure that you work with the organisation to ensure that talent requirements are specifically mapped so that you stay ahead of the curve at each stage of the project.
The need for contingency planning along with team scalability is crucial as demand for talent increase significantly. Having the right recruitment team structure to support the recruitment activity is paramount as this will determine the overall success of the team.
Consider the systems and process that you will need to support the recruitment activity and improve performance. Determine whether there is a business case to source systems from the open market, or whether they could be replicated in house.