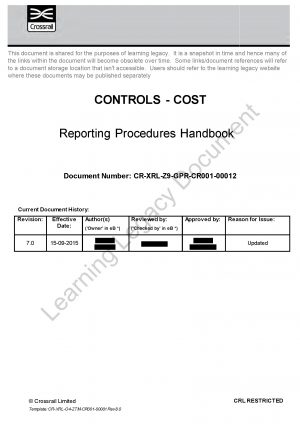 Reporting Procedures Handbook
Document type: Good Practice Document
Author: Crossrail Ltd
Publication Date: 27/09/2016
Abstract

The purpose of this handbook is to outline the reporting procedures at Crossrail for producing, issuing and amending progress reports on the programme. It provides information targeted at 3 key groups:

Sponsor, Board, Executive or Crossrail Function members – providing a high level overview of how reporting is carried out at Crossrail, including use of the Crystal Data Warehouse to ensure high quality information.
Reporting Team members – providing information on methodology for how the progress reports at Crossrail are produced.
Quality Assurance (QA) reviews over data quality – providing auditors information on the processes used by each of the Programme Functions to ensure high quality data is submitted to the data warehouse.

This handbook includes a reporting timetable for Period and Semi Annual reports and processes to ensure that information is submitted in a timely manner. It also highlights assurance checks established to ensure information is complete and accurate.