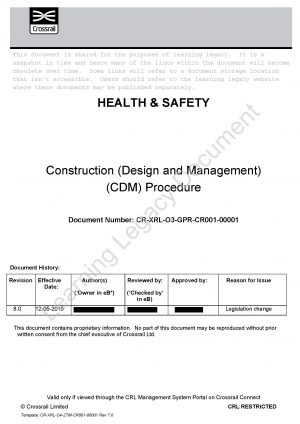 Construction (Design and Management) (CDM) Procedure
Document type: Good Practice Document
Author: Crossrail Ltd
Publication Date: 14/03/2017
Abstract

This procedure describes the Control Points used by Crossrail to provide assurance that all applicable Construction (Design and Management) Regulations (CDM) duties have been discharged.
Crossrail Ltd (CRL) has made a commitment to excellence in Health and Safety. This commitment is defined in the Health and Safety Standard for Contractors and Partners.
Excellence in the application of good practice to CDM compliance is an important part of Crossrail's health and safety commitments. Whilst the processes and procedures described in this document form part of this, those with a CDM responsibility shall also seek guidance:

 from the health and safety team

This procedure applies to all CRL design and construction activities where Crossrail has a CDM duty, including where other organisations have been Elected as Client as defined under CDM Regulation 4.