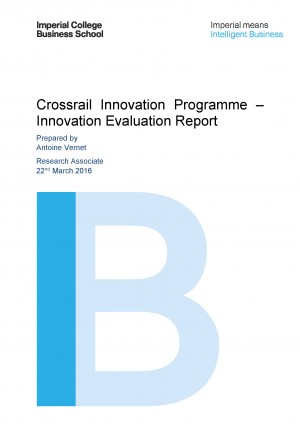 Crossrail Innovation Programme Benefits Evaluation Report
Document type: Research Paper
Author: Antoine Vernet
Publication Date: 22/03/2016
Abstract

The Crossrail innovation programme, at the time of its inception in 2012, focussed on generating innovation through sharing rather than providing a return on investment.  To enable this a small pot of funding was created to trial ideas and to develop an innovators network that raised the bar for the industry. Once the programme had matured and had begun to generate innovations the demand for an assessment of benefits, and specifically financial benefits grew.  Crossrail's Innovate18 programme is the first of its kind in a large public sector infrastructure project and wishes to share the benefits of its experience with the rest of the industry.  Therefore, Imperial College was commissioned to independently evaluate the benefits of the innovation programme for Crossrail. The report evaluates the impact of each idea shared, the impact of having that idea "pinched with pride" by other contracts/sites, and the impact of having an open platform where the supply chain can interact and collaborate with one another. It also takes into consideration the softer benefits such as behavioural change, and impact on ideas that improve health and safety.
This paper is relevant to any major programme or project planning, or implementing, an innovation programme. It would be of use to anyone wishing to assess the benefits of innovation on a major infrastructure project.

Access the full document below.