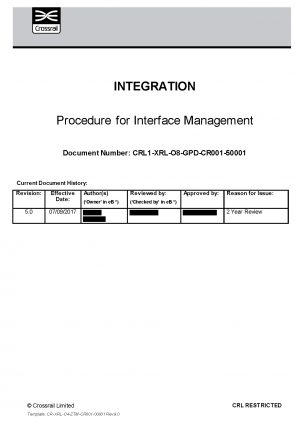 Interface Management Procedure
Document type: Good Practice Document
Author: Crossrail Ltd, George Georgiou
Publication Date: 09/07/2018
Abstract

This procedure addressed interface management undertaken on the design and engineering of the Crossrail Central Section.

It applied to all the systems, sub-systems, components and interfaces that made up the Crossrail Central Section, including all civil, and infrastructure elements plus interfaces to those elements located on the surface Western, North-Eastern and South-Eastern corridors and rolling stock.

It was applied to the various design organisations from  Framework Design Consultants to Design and Build Contractors (Systemwide as well as Stations, Shafts, and Portals).

The procedure defined the roles and responsibilities of key individuals involved in the process, particularly the CRL Interface Engineer, CRL Engineering Managers, Design Consultants, and Interfacing Parties (eg NR, LU, DLR).

It described the use of documentation such as the Interface Control Document, to help develop the interface designs and document mutual agreement, aligned with design progress.

Other elements described include Inter-consultant Design Reviews (IDRs), expectations and check points at Design Gate Reviews, coverage analysis and matrices, and the interface database.

The principles, processes and tools utilised are readily transferrable to other complex infrastructure projects, and provide a good starting point to implement interface management.