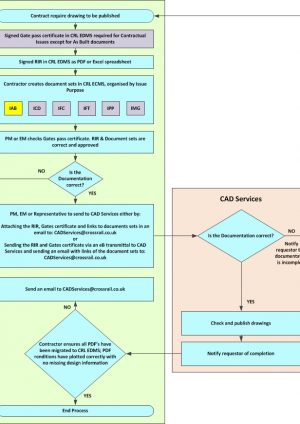 Management and Client Assurance of Contractual Drawing Deliverables
Document type: Micro-report
Author: Pinal Patel
Publication Date: 09/07/2018
Abstract

This document aims to provide insight into Crossrail's method of processing contractual drawing deliverables received from the supply chain, ensuring a simple approach where possible to manage the extensive output from contractors during busy "Gate reviews" of the Crossrail project construction. The method of processing contractual drawings deliverables has aimed to provide the assurance that Crossrail requires that the data received is of the highest quality. By educating Contractors of our requirements, and by using a rigid procedure managed by the Crossrail CAD Data team of converting design drawings into contractual construction and as-built deliverables, Crossrail can be confident of assured and robust design data, collated and managed within their Electronic CAD Management System (ECMS) .
The paper would be of interest to any large programme looking to manage and assure the Third party CAD data alongside the Programme CAD Data within the organisation.

Read the full document

Introduction and Industry Context

Crossrail Limited was  set up to build the new railway that will become known as the Elizabeth line when it opens through central London in 2018. The project team  worked together to identify information requirements, including necessary drawing production, reporting components and to ensure information is available that meets the project requirements.

As with all projects  drawings will necessarily move through various phases during the design and construction phase.  The movement from an unassured design stage onto Crossrail assured  contractual drawings for construction is an important step. This needed to be carefully managed to ensure that all the necessary assurance is in place. With over 300,000 drawings (plus 3D models), the greatest challenge for the team was  managing and processing the high drawing production efficiently and effectively to tight deadlines.

Crossrail's Approach to Management and Client Assurance of Contractual Drawing Deliverables

All the CAD Documents in the programme are a progression of sequential steps or states through which CAD data must pass in order to progress from initiation to completion. Each workflow state requires a manual or automated action to be completed before progression to the next is permitted. Through this method programme assurance and other required checking processes may be enforced on data where required, before it is released to a wider audience.

This defines the process by which drawings are advanced from preliminary pre-contract design (P Revision) onto a post contract revision (C Revision). The post contract revisions can then be used for Contractual Issues Purposes (including Issue for Construction).

A quick reference guide was produced to outline all the stages required and where the responsibilities lay.

Firstly, the ECMS was configured in such a way that  only the Crossrail CAD Data team that were able to move drawings to a contractual C revision. This is only  done following a request in writing (email) to the CAD Data team accompanied by all the relevant assurance documentation. A bullet point checklist was created by the Crossrail CAD Data team and communicated  to the contractor  supply chain. This ensured consistency with the  contractor compliance. It stated:

Before any drawings can be converted to a contractual C revision, termed Publishing, Crossrail CAD Data team requires the following:

eB link to the signed RIR (some emails may have the PDF or Excel sheet included as an attachment) (eB is Crossrail's Document Management System. An RIR is a document used by contractors when submitting deliverables to Crossrail, which lists these deliverables)

The Crossrail 'Project Engineer' should sign the RIR(Register & Issue Record) as Code 1 (meaning it has been accepted by Crossrail Engineering)
The drawings should have the correct issue purpose listed on the RIR (Eg: Issued for Construction, Issued for As-built). We do not publish drawings which are listed as IFI (Issued for Information) but all of the following are:

Issue Purpose

IAB – Issued of As Built

ICD – Issued for Contractor Design

IFT – Issued for Tender

IFA – Issued for Acceptance

IMG – Issued for Construction as Denoted

IFC – Issued for Construction

IPP – Issued for Planning Procurement

eB link to the Gate Pass Certificate (some emails may have the PDF or Excel sheet included as an attachment) (A Gate Pass Certificate is the document that demonstrates that a drawing, or number of drawings, has successfully been submitted by a contractor as part of a design Gate review)

ProjectWise link to the Document Set. (ProjectWise, developed by Bentley Systems, is the ECMS adopted by Crossrail, a Document Set is a method of collating various files/drawings together in one 'folder' within ProjectWise.
The drawings in the document set should be at state 'Authorisation' for CAD services to publish them. (Authorisation is a workflow state for files within ProjectWise from which drawings may be published to Construction revision)

 The introduction of the above checklist has standardised and sped up the entire process of receiving and issuing drawings through the Crossrail ECMS. If any one of the criteria listed is not met, then the contractor will be advised and must then correct the issue before drawings can be published.

Once a drawing is published a pdf version is automatically generated and migrated to eB and is then available to be distributed by the contractor to site for construction purposes.

A key component of this standardised method is effective communication of the key criteria to project teams across the project. This aims to ensure that the contractual drawing requests received from contractors to the CAD Data team are correct first time. This is achieved by liaising closely with all members of the project teams, site presentations, Quick Guide documentation  and continual email correspondence.

The diagram below (Figure 1) shows the process of requesting that drawing files be issued through the Crossrail CAD Data team.

Figure 1 – Flow Diagram of CAD Data Team Drawing Request

Lessons Learned

The introduction of a checklist standardised and sped up the entire process of receiving and issuing drawings through the Crossrail ECMS. By introducing this process missing criteria could be spotted straight away and  the contractor could be advised, ensuring the issue was corrected before drawings were published.
Ensure all documentation and processes are kept up to date and communicated effectively to contractors. Make sure that Contractors are trained regarding the correct way to submit their requests.
Good communication is the key!

Recommendations for Future Projects

It became clear as drawing production increased over the course of the project and more and more publication requests were received from contractors that the CAD Data team would have benefited from an automated method of checking these requests. The Data team developed a web-based submission form as a means of demonstrating how this automated process might work. and is shown in Figure 2  below.

Figure 2 – Sample web-based drawing request submission form

Although this was not rolled out on the Crossrail project, it would be something that future projects may benefit from.