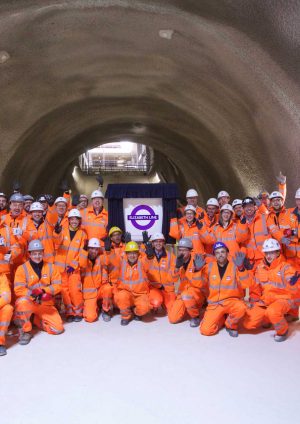 Promoting Wellbeing Through a Champions Network
Document type: Micro-report
Author: Katie Dodsworth
Publication Date: 13/03/2018
Abstract

In conjunction with external partners Crossrail developed and used a defined six-step programme to implement  its occupational health and wellbeing strategy. One of the steps identified was to create a local champion network to provide a localised approach to embed the programme across the various projects located on multiple sites.

This report describes how the champion network was developed, how ownership of the role was generated and what the expectations were of the network. It identifies the lessons learned and provides recommendations that would be of interest to any large project looking to develop and improve their employee wellbeing strategy.

Read the full document

Introduction

To deliver Crossrail's mission of keeping its people healthy and safe, every day at work, wellbeing is one of its strategic "Four Cornerstones for Health". The wellbeing cornerstone is about providing information and tools to maintain optimal health. The information and tools were developed as part of the organisation's wellbeing programme (see micro report "Raising Awareness about Wellbeing and Mental Health"). However, as a client organisation, made up of a large number of fairly independent projects, managed by a variety of contractors, delivering the wellbeing programme across all sites presented a challenge. The solution to this was to create a network of wellbeing champions who were responsible for promoting and delivering the wellbeing programme locally.

Wellbeing Champions

Wellbeing specialists, Robertson Cooper supported Crossrail in creating and facilitating a network of wellbeing champions. The initial cohort of Champions was identified by asking for volunteers from each site or project across the organisation. Both Crossrail and contractor employees were invited to volunteer.
The network was launched with the first of monthly forums. The first forum was about setting the boundaries and objectives for the role of the champions. Champions were introduced to the Wellbeing Commitments made in the Crossrail Occupational Health and Wellbeing Strategy. The strategy had set out a six-point programme, which was shared with champions:

Create a shared view and vocabulary of wellbeing
Build awareness and visibility of wellbeing
Create local support and champion network to drive localised approach
Educating and upskilling local managers and staff
Create governance and accountability structures that reinforce the need to change
Provide access to resources and opportunities to change behaviour

This six-point programme was discussed, with the champions being supported by the facilitator to consider how they felt they could contribute to each of the steps. A list of actions was drawn up, including what champions would do against each of the six points and what further resources and development they felt they would need to do that. By the end of the first forum, the champion group had agreed upon a statement of intent regarding their role:

"As a group of Champions our purpose is:

To come up with the how to support the implementation of the wellbeing strategy
To work together to leverage good practice and useful resources across the organisation
To change the focus and stigma of mental health and wellbeing

We will consider ourselves to have been successful if in 6 months and 12 months' time:

Local wellbeing activities plans have been developed for each site and delivered
We have received mainly positive feedback about the activities delivered
People who step forward to support wellbeing feel recognised and rewarded

Our ultimate goal is: "Optimal health for all"

The champions were supported in their achievement of this intention in the following ways:

Monthly forums were hosted (mainly by telephone conference, with one per quarter being face to face). In these forums, champions were encouraged to share success stories, ideas and challenges. This enabled the champions to support and learn from each other. The facilitator also provided an update of new resources or programmes available to them.
An online SharePoint was created to allow the champions easy, centralised access to a range of wellbeing related resources (such as presentations, fact-sheets, posters, articles etc) that they could use to support their local activities. These resources were mostly aligned to the central wellbeing programme, but other topics were also included to allow the champions the flexibility to choose what was most relevant and beneficial to their area.
In year one, workshops were run for champions to build their skill and confidence in having effective conversations about wellbeing. The intention was that these workshops would enable them to talk more confidently to people within their sites about wellbeing issues, as well as being able to coach managers through having similar conversations themselves with their team members.
In year two, a workshop on Motivational Interviewing was offered to champions, to build further on the year one training. Motivational Interviewing is a technique used to encourage health related behaviour change in others.
Aligned to Crossrail's bi-annual Health and Safety Stepping Up Week, two wellbeing programmes were created for champions to run locally to promote the wellbeing agenda and act as a catalyst to positive behavioural change. These programmes were the Five Day Energy Kick-Start programme and the Good Day At Work Pledge.

Champions were expected to lead on the activity programme for their area. They were provided with a template activity calendar, but given the freedom to adapt the monthly topics and activities as they felt relevant to the specific population of their site and also to align with other wellbeing related activities which may be driven by the contractor's own wellbeing agenda. The resources and programmes provided were intended to facilitate them in doing this, but they were also actively encouraged to make use of other resources and local expertise. One example of this, was a site where one member of staff's wife was a psychiatrist and she offered to run a lunch and learn session on mental health awareness. Another had an individual employee who had experienced laughter therapy and whose presentation on the health benefits of laughter was so well received it was shared with other sites. Several sites also collaborated in running an inter-site staff sports day, which was enjoyed by many and repeated in subsequent years as a result and other sites have set up step-challenges or local walks.
Towards the end of the two-year period that Robertson Cooper was contracted to facilitate the network, the forums and support activities focused on enabling the remaining champions (many had left the organisation by this point as projects came to a close) to be self-sufficient in continuing with their activities and agenda for the duration of their project or site's operation.
Measuring the impact of the wellbeing champion's activities was always anticipated to be difficult. Participation rates don't mean much if it is always just the same "worried well" group who take part and there are so many other influencers of wellbeing aspects such as illness, obesity, stress, smoking rates etc that it is hard to measure the direct impact of wellbeing activities. It is for this reason that one of the main measures of success for the champions was agreed to be the feedback they received.
Below is a quote from one champion about the feedback they have received and their perceived impact of the wellbeing focus at their site:

"Attitudes to food has changed and I think people are eating a more healthy diet. I have noticed that team treats for an event now always include dried/ fresh fruit, nuts and seeds and healthier foods rather than just cakes and biscuits.
I have also noticed that my team talk more openly about health and wellbeing and I am usually called upon when they tease each other for eating the wrong foods. These behaviours are encouraging and I hope that the more we talk about different topics, health and wellbeing awareness will be heightened."  Wellbeing Champion, Tottenham Court Road

Lessons Learned and Recommendations for Future Projects

The engagement and capacity of the champions to fulfil their objectives was the main lesson learned throughout the time that the network was facilitated. In the early months, it proved challenging to get champions to attend the forums. This was met with sympathy and flexibility by the facilitators as it was recognised that champions were volunteers who were performing their champion role alongside their existing role-responsibilities. However, it became apparent through requests for updates and one-to-one follow ups, that those who were not attending the forums were also not delivering the required activities. A decision was therefore made to replace these less engaged champions. However, that decision could have been made sooner to avoid the missed opportunities which arose from some of the initial cohort not fulfilling their objectives.
It was also observed that the more effective champions were those who had the authentic backing of their project/site leader. In these cases, the leader supported the champion in finding time to conduct wellbeing activities. In the majority of these cases, as a result of the leader's commitment, the champion role also did not fall to just one person on the site. Although there may just be one or two allocated wellbeing champions, those individuals were supported by a small team who could assist them in co-ordinating and promoting activities. This model of sharing the demands of the role proved very effective.
As a result of these lessons learned about the importance of the engagement and capacity of the champions, it is recommended that:

The time and outputs expected of champions are made very clear and explicit at the outset so that individuals can make an informed decision about whether they have the capacity for this and their progress should be reviewed in the first quarter to consider in consultation with each champion as to whether their estimation of their capacity to take on the role was realistic.
Senior leaders need to be on board if champions are to be enabled to succeed. Leaders have a role to play in demonstrating that wellbeing is a priority for the organisation and also in giving permission for the champions to devote some time to the demands of the role as well as to permit and encourage the participation of staff in the activities the champion promotes. Without this support, champions will struggle to gain momentum and so a preliminary step to identifying champions, is to properly engage relevant leaders.
The demands should be shared; it is valuable for the formal champions (those who are trained and who take ownership for the activities) to have support in coordinating and promoting activities. This also presents opportunities for more junior members of staff to get actively involved; potentially creating a pipeline of champions for the future.