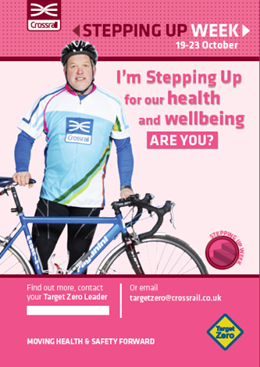 Raising Awareness about Wellbeing and Mental Health
Document type: Micro-report
Author: Katie Dodsworth
Publication Date: 13/03/2018
Abstract

This report describes how Crossrail looked to develop its Occupational Health and Wellbeing strategy and worked with an external partner to define, improve and implement its approach.
The paper will be of use to any organisation looking to expand their approach to improving the wellbeing and mental health of their workforce.

Read the full document

Introduction

In August 2015, wellbeing specialists, Robertson Cooper, supported Crossrail in defining the wellbeing commitments of its Occupational Health and Wellbeing Strategy. With the overall aim being for Crossrail to keep its people healthy and safe, every day at work, the strategy is made up of "Four Cornerstones for Health". Wellbeing is one of the four main elements. The wellbeing cornerstone is about providing information and tools to maintain optimal health. A six-step programme was defined to support Crossrail in achieving its aim:

Create a shared view and vocabulary of wellbeing
Build awareness and visibility of wellbeing
Create local support and champion network to drive localised approach
Educating and upskilling local managers and staff
Create governance and accountability structures that reinforce the need to change
Provide access to resources and opportunities to change behaviour

Over a two-year period, Crossrail, supported by Robertson Cooper and other suppliers, created and implemented a range of resources and activities designed to deliver the six-step Wellbeing Programme. The aim of the Wellbeing Programme was to raise awareness about wellbeing and support the achievement of the organisation's strategic aims in order to leave a lasting legacy of improving wellbeing and mental health within the construction industry.

Wellbeing programme

The Wellbeing Programme covered a broad range of wellbeing issues, including those related to psychological as well as physical wellbeing, and was designed to raise awareness, to promote behavioural change and to sustain attention and momentum. Here we outline some of the resources and activities which were provided for each of the six-steps of the Wellbeing Programme:

1. Create a shared view and vocabulary of wellbeing

A definition of wellbeing was presented in the strategy to ensure clarity around the broad reaching definition of wellbeing intended by Crossrail. This helped to clarify that wellbeing meant more to the organisation than just either physical or psychological health. It was a holistic definition which incorporated physical, psychological, social and mental health. This definition was still somewhat technical to the average employee or contractor and so, in year two a deliberate move was made towards focusing on Robertson Cooper's "Good Day At Work" message as the vocabulary for wellbeing at Crossrail. The message is a simple and very accessible one: we feel better and are able to do our jobs better when we have a good day at work. Wellbeing at Crossrail is therefore about understanding and taking action to create more good days at work for everyone. The language and the logo of Good Day At Work was used in wellbeing materials, training and programmes (as outlined below) to create this shared, common vocabulary.

2. Build awareness and visibility of wellbeing

It was notable from the low response rate of the initial wellbeing survey which was conducted in August 2015 (see Microreport "Looking at the state of wellbeing over time at Crossrail") that wellbeing may not be considered a priority for many. Therefore, one of the critical objectives of the Wellbeing Programme was to raise the profile of wellbeing; to build widespread awareness about the importance of wellbeing to individuals and the organisation. This was done by making wellbeing as visible as possible. This included:

Creating wellbeing noticeboards in every office
Producing "toilet talkers" (posters for the back of toilet cubicle doors)
Ensuring there was a related wellbeing angle to all monthly Health and Safety topics and biannual Stepping Up Week programme. For example:

When the Health and Safety topic was Sun Awareness, wellbeing bulletins were produced which promoted the mental health benefits of spending time outdoors (whilst following sun safety guidelines).
When the Health and Safety topic was Cancer, the wellbeing bulletin was about the psychological impact of living with long term illness and how to support yourself or colleagues in such a situation.
When the Health and Safety topic was Exercise, the wellbeing angle was about how physical activity is about more than just the physical benefits of getting fit and losing weight, but that physical activity is also one of the best ways to combat stress.

Getting wellbeing onto the agenda for the monthly Health and Safety "Toolbox Talks" and encouraging people to volunteer to deliver a toolbox talk on a wellbeing subject that they had personal experience of (such as depression).

3. Create local support and champion network to drive a localised approach

It was recognised that the structure of Crossrail presented one of the main challenges and obstacles to delivering a Wellbeing Programme which reached the whole organisation. As a client organisation, Crossrail is made up of a large number of fairly independently run projects, many of which are managed by Contractors. Activities conducted centrally would be unlikely to have the reach and visibility to have impact on people working on projects or sites, often not employed directly by Crossrail. To overcome this challenge a network of champions was created to promote and drive local wellbeing activity. Further information about how this network was set up and supported can be found in the Microreport "Promoting Wellbeing through a Champions Network" INSERT LINK

4. Educating and upskilling local managers and staff

As well as making wellbeing more visible to all, a key objective of the programme was to build the capability of staff to create more good days at work for themselves and others. Throughout the duration of the Wellbeing Programme a range of developmental workshops and programmes were offered to support this objective. These included:

Champions training: to build the wellbeing champions' skills and confidence in breaking down stigma and talking about wellbeing. This was delivered with the intention for champions to be able to coach managers to have more effective wellbeing conversations with their teams as well.
Resilience Training: personal resilience training was offered to give individuals the skills and knowledge they need to build their own sustainable capacity to cope with pressures, challenge and set-backs.
Mental Health First Aid: a number of people across the organisation were invited to attend external training to become Mental Health First Aiders. This was intended to build the organisation's capability to support those who are experiencing the signs and symptoms of stress, depression, anxiety and other mental health concerns.
Energy Kick Start Programme: run during Health and Safety Stepping Up Week this programme was designed to educate staff about health related behaviour. At the end of the programme each participant was provided with a "Keep It Up Self-help Resource Pack to support them in sustaining positive changes made during the programme.
No More Ostriches: this was a short, focused line-manager workshop aimed at giving people the skills and confidence to talk more about wellbeing and mental health issues at work.

5. Create governance and accountability structures that reinforce the need to change

The intention of this element of the plan was to build wellbeing in the way the organisation works; making it as much of a priority as other health and safety related responsibilities. This included:

Creating a Mental Health and Wellbeing element of the Health and Safety maturity matrix which all sites were audited against.
Building wellbeing into the project deliverables and holding project leaders accountable for reporting against these

6. Provide access to resources and opportunities to change behaviour

This stage of the programme was about activating behaviour change; giving people the chance to get involved and do something that would make a difference to their health and wellbeing.
At one level this was about making sure that in all the literature (leaflets, posters, bulletins etc) that were produced about wellbeing, practical tips were included about what an individual could actually do as a result of what they had learned through that information. For example, the bulletin about the power of physical activity to combat stress included a list of tips for building more physical activity into your daily routine.
At the next level, this was about facilitating events and activities which gave people an easy opportunity to do something different. Most of these activities were driven at a local level by the wellbeing champions. They included:

Action oriented programmes to initiate health related behaviour change (e.g. the Good Day At Work Pledge)
Ensuring the wellbeing calendar incorporated practical activities (e.g. healthy eating workshops, walking groups, steps challenges, gym trials etc)
Participation in national campaigns such as Stoptober (stopping smoking), Dry January (cutting out alcohol), Sugar Free February, Mind's Time to Change mental health campaign etc

Lessons Learned and Recommendations for Future Projects

One of the positive lessons learned from the programme was the importance of the wellbeing champions network. Feedback and participation rates reinforced the original expectation that central activities would not reach staff at other sites and so locally driven activity was the right course of action to take.
Given that approach would be recommended for future project with organisations of a similar structure and geographical spread, then another lesson learned was the importance of having a wellbeing programme aligned to a wellbeing strategy. The wellbeing champions were an important conduit for driving local activity, but the freedom they were given to do that meant there was a risk they would focus on areas of personal interest. Having the wellbeing strategy created the necessary central focus which enabled constructive, objective challenge of local activity plans to ensure that the topics and activities were broad enough to cover the breadth of focus that Crossrail intended.
Finally, an important lesson that was learned was the difficulty in measuring the impact of such a wellbeing programme. From academic research, it can be predicted that improving wellbeing will have a positive impact on factors such as productivity, safety, engagement, absence etc. However, in reality there are a lot of confounding factors which make it hard to measure this impact directly. Repeat wellbeing surveys were used as one measure and did show some positive impact (discussed in Microreport "Looking at the state of wellbeing over time at Crossrail" INSERT LINK). However, other factors (such as the job insecurity created as fixed-term projects draw to a close) had an inevitable confounding impact on the results, making a like-for-like comparison over time difficult. It is recommended for future projects that measures of success include both quantitative measures (such as repeat survey results, participation rates etc), but also qualitative measures. As the programme lead reported,

"When I hear that an activity made a real difference to just one person then I know it was worth it".