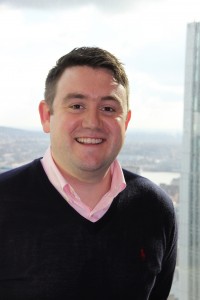 Andrew was appointed as the Acoustic Manager at Crossrail in 2015, with responsibility for providing specialist noise and vibration advice to the Crossrail programme, promoting a consistent approach to noise and vibration issues on construction, fixed plant and the operational railway and identifying and disseminating best practice and lessons learned.
Andrew has 10 years experience in acoustic consultancy and has been with Crossrail since 2011. During these 10 years Andrew has had significant involvement in major infrastructure projects, resolving construction noise and vibration issues, producing environmental impact assessments and consent applications. This includes Crossrail, Thameslink, High Speed 2, Thames Tideway, and Defence Training Academy St Athan.
Andrew has also managed the acoustic design of several significant architectural projects, including school, hospital, residential, office, commercial and religious buildings. During this time he has gained experience of advanced noise and vibration modelling, monitoring and data analysis. Andrew is a committee member of the London branch of the Institute of Acoustics and is a Science Technology Engineering & Maths (STEM) ambassador, volunteering in Schools.