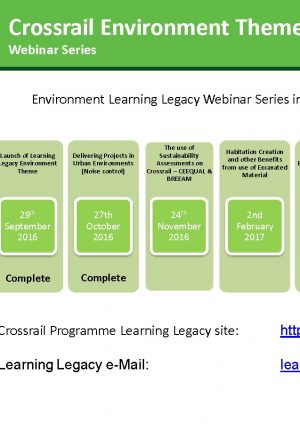 Abstract

This is the tenth and final webinar in a series of Crossrail Learning Legacy webinars focused on the Environment Theme. It describes how Crossrail has worked in collaboration with its contractors to drive improved performance for noise management.

Noise was one of the main impacts and challenges during the construction of Crossrail. It was recognised that for Crossrail's Tier 1 contractors to achieve the necessary levels of performance in noise management, focus could not solely be on controlling or minimising noise levels. Factors such as community engagement, effective planning, management processes, leadership and culture were identified as being critical to successful noise management on sites. A detailed suite of objective performance measures were defined in order to measure contractor's performance in construction noise management with the aim of driving improved performance towards a defined "world class" level.

This webinar describes the criteria that were used to measure performance and the benefits that have resulted. The key factors that contributed to success and the key challenges faced during the process are also covered.

The webinar may be of use to Clients considering developing a means of measuring the construction noise management performance of their principal contractor(s) on a construction project, and for Principal Contractors in turn to manage and measure the construction noise performance of their supply chain.