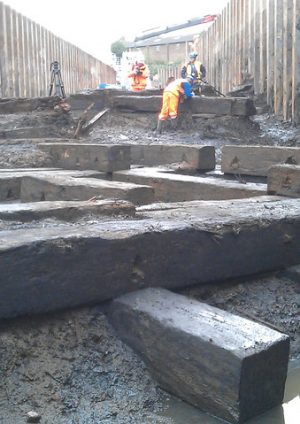 Archaeology archive – Limmo Peninsula (Canning Town)
Document type: Dataset
Author: Crossrail Ltd
Publication Date: 19/07/2016
Abstract

This dataset includes the WSIs and fieldwork reports for recording undertaken at the Crossrail worksite at Limmo Peninsula (Canning Town).

The remains of the Thames Ironworks and Shipbuilding Company which played an important part in London's docklands development and Newham's social history were recorded.

The site of the Thames Ironworks (1837-1912) is one of London's greatest industrial archaeology sites. After 75 years of innovative engineering and shipbuilding, it closed in 1912. The yard once employed thousands and produced large civil engineering structures, battleships, and numerous other vessels for navies across the world.