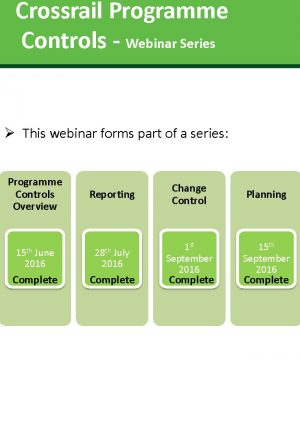 Abstract

This was the first in a series of Crossrail Learning Legacy webinars focused on Project and Programme Management, hosted by our partners at the APM.

This webinar aims to provide an overview of the programme controls put in place on the programme.

The Crossrail Programme Controls Team set out to develop a world-class controls function which, through robust reporting and sound programme management protocols, would support the Crossrail programme to deliver the works safely and to time, specification and cost.

The Crossrail programme controls function was built on four key principles. These were to: set the standards; provide integrated information; bring foresight and advice and  provide assurance.

The webinar, presented by Richard Palczynski, explains the overarching principles for Crossrail's programme controls and explains the overall structure of the programme controls department including the changing requirements over time. It covers the key objectives for the programme in accordance with key commercial agreements between the programme sponsors, Crossrail and the industry partners.
Through the delivery of the core base services of planning, cost management, risk management, programme change management and reporting, the ambition has been met, and continues to evolve as Crossrail heads into the final delivery phase.