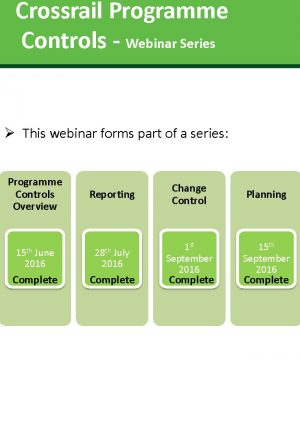 Abstract

This was the second in a series of Crossrail Learning Legacy webinars focused on Project and Programme Management hosted by our partners at the APM.

As a high profile, highly complex programme with a large number of internal and external stakeholders, Crossrail has diverse user groups for its management information. The reporting hierarchy comprises of a range of reports produced by Crossrail to meet varying stakeholder requirements.

Reporting processes are supported by effective information systems to hold, aggregate and summarise data, as explicit knowledge. Tacit knowledge is integrated with data in project dashboards which are presented to the programme executive at periodic Project reviews, where those responsible are subject to scrutiny, and are expected to advocate their position.

This webinar aims to demonstrate how this process works and the various elements required for it to be an effective process.