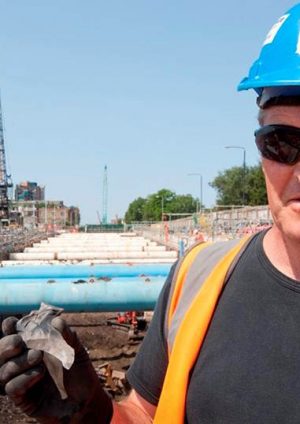 Archaeology archive – North Woolwich Portal
Document type: Dataset
Author: Crossrail Ltd
Publication Date: 19/07/2016
Abstract

This dataset includes the desk study, WSIs, and fieldwork reports for investigations undertaken within the Crossrail North Woolwich portal worksite. The location of the site was predicted through use of a geo-archaeology borehole predictive model, which is also included.

The work discovered a Mesolithic 'tool-making site' which included 150 pieces of refitting worked flint, among them blades. The evidence suggests a prehistoric hunting group was using the site to test, divide and prepare river cobbles used to make flint tools, before transporting them to another site to complete the tool-making process. A small hearth feature was also present.

The site reveals evidence of humans returning to the Thames Valley region after a long hiatus during the previous Ice Ages.