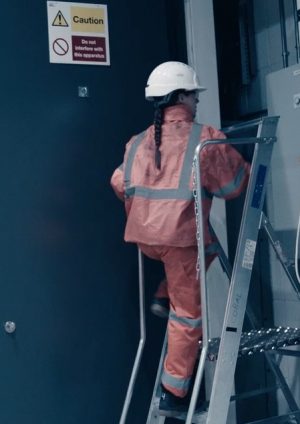 Health and Safety Impact Video – Zoey's Story
Document type: Video
Author: Crossrail Ltd
Publication Date: 14/10/2016
Abstract

The focus of this film is the importance of following permit systems and relying on competent people, especially when working with electrical systems. In his desire to be helpful and show initiative, the new starter (Peter) decides that, rather than waiting for Colin in the plant room to put in place the correct isolation, he would take action himself. When Colin returns to the plant room and sees that a circuit has been isolated, but not locked off, he wrongly switches it back on.

The short film is shown below and is accompanied by discussion notes that will help the viewer understand the risk.

Read the full document

Zoey's Story

What went wrong?

Firstly, Zoey did not make it clear how important it was that Colin made the isolation. She only conveyed the need for speed saying 'quick as you can'. Peter wanted to be helpful. It was his first day so he 'showed initiative' and isolated the circuit himself. He may not have been aware of or understood the permit process, or he may have felt it was more important to get on with things quickly. Colin, on seeing the circuit was isolated made no attempt to find out why. He had a radio and could have asked if anyone had made the isolation without his approval.

What would good have looked like?

Zoey would have ensured that safety and not speed was the highest priority when she sent Peter to the plant room. Given he was new; she should have made sure he understood the instruction that only Colin could make the isolation, and that the appropriate permit and lock out processes had to be followed. Peter should have waited for Colin or returned to Zoey, saying Colin was not present. His induction should have prepared him such that he knew it was not acceptable to make the isolation and that isolations should only be made by competent persons, who would 'lock' them out. Colin should have radioed out on finding the isolation had been made but had not been locked off, he should have found out who had made the isolation and why.

Discussion Points

Do you know and understand the permit processes on your site?
Do you stop think and confirm you're competent before you undertake a task?
Do you ensure new starters understand fully the risks they are exposed to?

Possible Discussion Questions

Q.Why did Peter make the isolation?
A.There are many reasons he may have done this: he was new and wanted to impress; he'd been told to hurry; he thought it was straight forward; he didn't know how the permit process operated etc.

Q.Why did Colin reverse the switch?
A.There may be a number of reasons: there was no padlock attached to the switch; he should have stopped to think and used the radio to call to find out what was happening rather than assuming he knew.